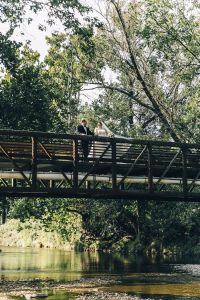 White Clay Creek Country Club features unique settings for your BIG day. We can accommodate weddings from 20 to 250 guests. The White Clay Creek Country Club team would love to be a part of your special day. White Clay Creek Country Club has been awarded the Bride's Choice Award from Wedding Wire and is in the top 5% wedding venues in the country.
Our elegant setting and superb arrangements instantly enhance your wedding or special event. Our staff of professionals will help make your event perfect to the very last detail. From exceptional cuisine to imaginative room designs and everything in between, a Wedding at White Clay Creek Country Club is distinguished by meticulous, personalized service, high standards of excellence, and a fantastic setting.
White Clay Creek Country Club prides itself in being one of the few locations with an experienced event designer on staff. We will work with you and your budget to create an unforgettable wedding day design that reflects your overall personality and style, from linens & lighting to floral and setup recommendations & unique details. From bold patterns, rustic textures, and opulent centerpieces to those on discerning budgets, we offer a variety of specialty and couture services and linen rentals to make your wedding day a dream come true. Custom design services are available for those discerning brides looking to make a statement at their wedding, complete with style and distinction. The perfect wedding starts with White Clay Creek Country Club as we transform your vision into reality! Please complete the below form to schedule a tour. We'd love to meet you.
Your Event Details